The St. Louis Cardinals could have made a splash with their most recent signing. Check out our article to find out who Won-Bin Cho is.
Who Is Won-Bin Cho?
While owners and the players association argue over the coming seasons, any news is good news right now for the St. Louis Cardinals. This last weekend, tryouts and workouts were held for foreign players. The Cardinals picked up 12 free agents, including 17-year-old, Won-Bin Cho.
Cho comes from South Korea and will play outfield. He is listed as a center fielder and he provides a lot of power in his bat. Cho is one of many Asian players that have gone through the Cardinals organization in the last two decades. So Taguchi, Kwang Hyun Kim, and Seung Hwan Oh are just a few names to mention that had impacts at the major league level.
Cho was set to be a high draft pick and star power in the KBO but withdrew in order to sign with St. Louis. Cho stands at 6'2" and 200 pounds. As a junior in high school, he hit .357 with three homers and 17 RBIs in 19 games. His senior year he hit .367 with 2 home runs and 12 RBIs in 18 games.
Cho put on a show at Globe Life Stadium in Arlington, Texas during his workout in 2020 for high school athletes. The video below shows his round of batting practice from the 2020 workout.
https://twitter.com/FiveTool/status/1325155443098832896?s=20
Other Prospects
The Cardinals also signed shortstop Jonathan Mejia, the 14th ranked player on MLB.com's Top 50 International Prospects. Also on that last with Luis Rodriguez, who ranks at #26. Seven of the 12 players the Cardinals signed were pitchers. The Cardinals will be looking for plenty of arms to help in the coming years.
Rookie Ball
Most of these players that signed will start in the rookie league and work their way up from there. The potential that some of these players possess makes these signings very interesting. From rookie ball, if they are good enough, we could see these players placed in Palm Beach or Peoria.
As a resident of the Peoria area, it would be great to see some of these top-end prospects day in and day out. With a team that has a good amount of prospects already, there has been a lot of talent sent through Peoria. Jordan Walker ended the season in Peoria last year. We have seen Nolan Gorman, Kramer Robertson, and many other former Cardinals make their way through Peoria.
Henny
If you saw the signing of Won-Bin Cho, you more than likely saw his agent's dog, Henny. As always, the hard-hitting journalism of Jeff Passan answered the questions we all had. Henny is a three-year-old Golden Retriever and he was in many pictures with Cho.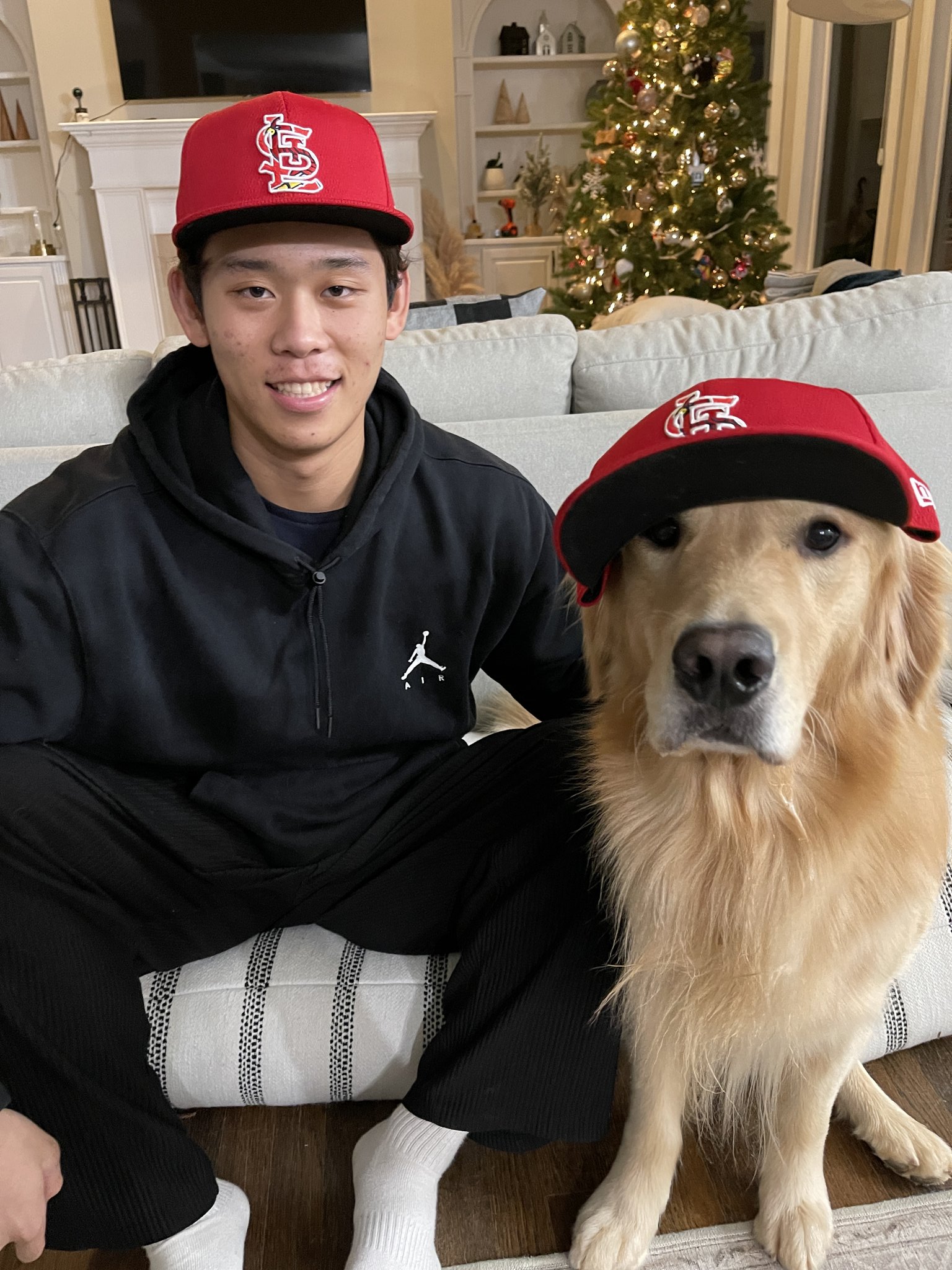 Henny took the hearts of many and now brings more popularity to the signing of Cho. Cho will be an interesting prospect to watch in the next few seasons to see how he progresses. We will have more to report as Spring Training comes closer if the owners and players association come to an agreement.
---
Join our Discord
to leave a question or comment regarding this article. We have sports fans talking betting all day — every day! JOIN THE DISCORD NOW AND QUALIFY FOR PRIZES & BETTING SWAG!
---