The St. Louis Blues picked up a much-needed win in Philadelphia, which will show why Tuesday's win means more than just two points.
Tuesday's Win Means So Much More
Let's try and not get too ahead of ourselves here, but is Jordan Binnington back?
The St. Louis Blues picked up a 4-1 road win on Tuesday night against the Philadelphia Flyers. It was the first time since 2019 that St. Louis had played in Philadelphia. That previous game was where the magic started in the 2019 Stanley Cup run.
Jordan Binnington made his first career start in that game in 2019 and it is only right that he returns to his former self in the win Tuesday night.
This year has been anything but great for Binnington. It is no secret that he has struggled since the record-breaking Stanley Cup run in 2019. His save percentage and goals-against average have all gone up since 2019.
Tuesday's win was the first for Binnington since Jan. 9, against the Dallas Stars. He had lost his last three starts coming into the game against Philadelphia.
To say Binnington was relived to get the win, would be an understatement.
"It's a tough league and it takes a lot of work, you can't let your foot off the gas," Binnington said. "You can't just do enough to get by, you've got to do more. It's tough when you feel you're not doing your part for the team."
Binnington still holds a record of 12-10-3 on the season. He barely holds a save percentage of .900. While it may just be one performance, the Blues need Binnington in his best shape if they are going to win this year.
Central Division Standings
The win on Tuesday night also gave St. Louis two points and moved them to second place in the Central Division Standings. The Central Division is proving to be the powerhouse of the Western Conference, as four of the top five teams are all from the Central Division.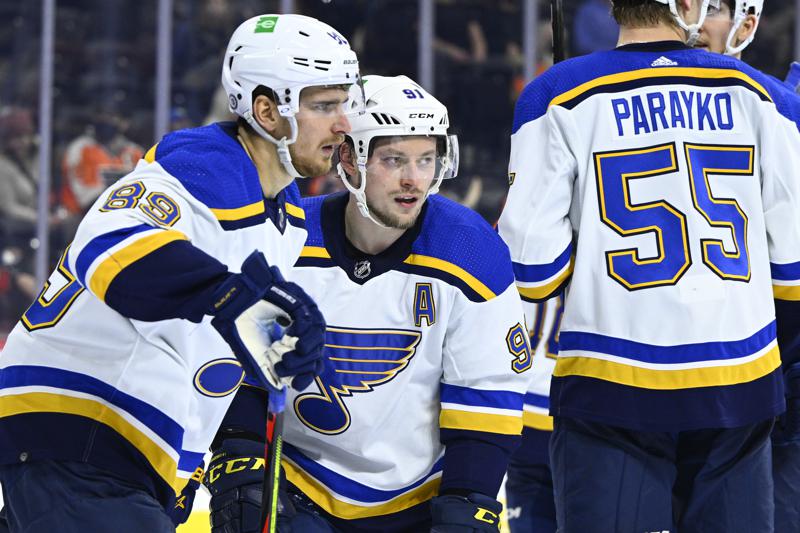 The Colorado Avalanche hold a 12 point lead on the Blues, who sit in second place in the Western Conference. Tied with St. Louis is the Calgary Flames with 66 points as well.
The Minnesota Wild sit in third place with 65 points. The Nashville Predators sit in fourth place with 64 points.
The Central Division and Western Conference spots of two through six are up for grabs in the second half of the season.
Who's Hot?
Vladimir Tarasenko continues to play at a high level for the St. Louis Blues. Tarasenko scored a goal on Tuesday night in the win over the Flyers. That goal was the nineteenth from Tarasenko this season, which leads the team.
What's On Tap?
St. Louis returns home tonight for one game against the Buffalo Sabres. This is the lone home game before the Blues head back out on the road for another four-game road trip.
Buffalo currently sits in second to last in the Metropolitan Division, only ahead of Montreal, who the Blues lost to in overtime on the previous road trip.
St. Louis has won four out of their last five and return home, where they hold a record of 18-6-2 on the year.
Game Time Information
Puck Drop: 7 p.m.
Location: Enterprise Center – St. Louis, Missouri
TV: BSMW, Bally Sports App, ESPN+
Radio: 101.1 ESPN St. Louis, NHL App
Game Lines and Odds
Spread: St. Louis -1.5
Money Line: St. Louis -330
Buffalo +260
Over/Under: 6.5
Colten's Bet of the Day: St. Louis -1.5
---
Join our Discord
to leave a question or comment regarding this article. We have sports fans talking betting all day — every day! JOIN THE DISCORD NOW AND QUALIFY FOR PRIZES & BETTING SWAG!
---