Trade rumors are swirling around the city of St. Louis. Read below to see what has St. Louis sports fans buzzing about their city and their teams.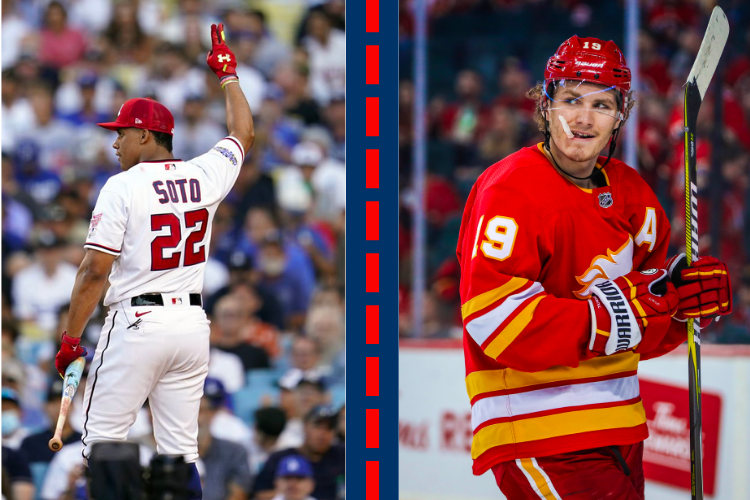 Take a look at any social media platform and you will see that St. Louis fans are buzzing right now. With the heightened rumors of Juan Soto and Matthew Tkachuk possibly landing a trade for both players to end up in St. Louis in their respective sports. One has always been a great possibility but the other is something new and exciting.
Adding Soto to the St. Louis Cardinals would make them the favorites to win the NL Central Division without a doubt. Unless the Cardinals find pitching, I still do not see them contending for the NLCS or World Series. Do not be upset when the Cardinals do not land Soto at the trade deadline.
Landing Tkachuk this offseason is a real possibility for Doug Armstrong and the St. Louis Blues. They have a few players they would like to get rid of for cap reasons and for those asking for a trade. This would be a reunion in a sense, bringing a Tkachuk back to playing in a Blue Note uniform and a deal is expected to be done in the next week or so.
As excited as some may be, understand that there is a real possibility St. Louis does not land either player.
Soto to St. Louis
News broke last week that Juan Soto declined an extension with the Washington Nationals for 15 years with $440 million on the line. It was at this point that the Nationals front office and ownership realized that a contract extension may not be in the realm of possibility. That leaves all but one option for the super-star slugger and his current team. Find a new home.
If the Cardinals were to acquire Juan Soto at the deadline, the team would have 2.5 years of control due to his current contract. At the end of 2024, Soto would be up for a new deal and St. Louis would have to offer an extension if they so choose and if they didn't, they wasted prospects for 2.5 years of hitting and bad defense.
There are many issues with trading for Soto but the largest one is that it goes against the largest philosophical reason for how this team and franchise operates. John Mozeliak, President of Baseball Operations, said himself last week that the Cardinals are a team built through the draft, international signings and the farm system. Trading away the entire farm for one player goes against everything this organization stands for and has built.
More fuel has been added to the fire of Soto leaving after news came out that the Nationals refused to give Soto a private jet to the All-Star Game and Home Run Derby. Oh, the travesty.
The Nationals are looking to parlay Patrick Corbin into this deal which would make St. Louis less likely to deal. Corbin is 4-12 this season with a 5.87 ERA. That is less than desirable for a team that truly needs pitching help.
Homecoming for the Tkachuk's
Many of you may remember the name Keith Tkachuk and that's because he was a long-time member of the St. Louis Blues. The left-winger spent nine years in St. Louis, playing over 500 games with over 400 points. Tkachuk retired as a Blue in 2010 and his two boys now inspire many hockey fans around the league.
Matthew Tkachuk has been in the headlines because he wants out of Calgary and the Flames organization. The 24-year-old is coming off a career year, scoring 107 points in 82 games played.
St. Louis is not the only team that has been interested and not the only team that was put on Tkachuk's list. The Vegas Golden Knights, Florida Panthers, Nashville Predators and the Dallas Stars were reportedly on the list of possible trade destinations as well.
For St. Louis, it makes so much sense to bring a St. Louis kid home. After failing to sign David Perron back to St. Louis, there has to be more in the playing cards for Doug Armstrong. Has the team looked at this possibility all off-season?
Players like Jordan Kyrou, Pavel Buchnevich, Vladimir Tarasenko or Torey Krug could be in the playing cards for what is dealt. It is possible that the Blues could trade only Tarasenko and get away with it.
As the days go on and more news comes out, a sign and trade could be a possibility as well.
Doug "Armie" Armstrong has made many great trades in the last few seasons. Could he be dialing up yet another blockbuster trade to bring Matthew Tkachuk to St. Louis?
---
Join our Discord
to leave a question or comment regarding this article. We have sports fans talking betting all day — every day! JOIN THE DISCORD NOW AND QUALIFY FOR PRIZES & BETTING SWAG!
---