After the game one win, how do the St. Louis Blues regroup for game two? Read below to see what happened in game one and what to look for in game two.
We saw early and often this will be a long series between the St. Louis Blues and the Minnesota Wild. If the two teams seemed to dislike each other in the regular season, multiply that by 1,000 for this playoff series.
While Monday night's game got chippy, St. Louis has to find a way to reset and regroup for tonight's game. Not often do you ask the winning team to reset but that is exactly what St. Louis needs to do, in an emotional series.
One would have to expect that Minnesota will respond after being shut out in the first game. For St. Louis, they have yet to be shut out this entire season. There are a few things that St. Louis needs to fix for game two.
Game One recap
The Blues won game one 4-0 after a great performance by Ville Husso. It was David Perron that got St. Louis on the board first with a power-play goal at 6:15 in the first period. The captain, Ryan O'Reilly, extended the lead towards the end of the first period with his first playoff goal of the season.
The Wild were down but not out after falling behind 2-0. You can never count out Minnesota, especially after the third period in the regular season finale when the Wild scored four goals. It was David Perron that would strike again for St. Louis and once again it came on the power-play.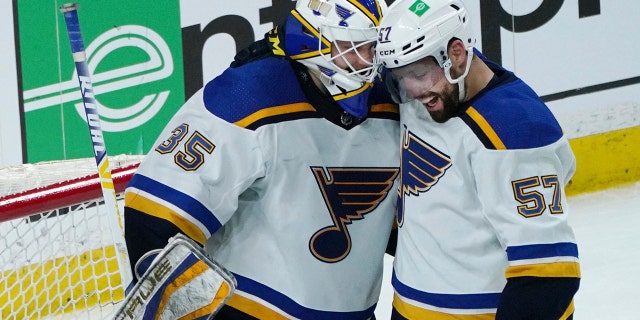 There was still energy in the building after the two teams seemingly beat each other up all night, but Perron took the wind out of the sails with his third goal in the final period. Had the goal come a few seconds earlier, it would have been another power-play goal, making Perron the first Blue to ever score three power-play goals. While it was not a power-play goal, it was the final nail in the coffin for the night.
As impressive as Perron was, Husso stole the night with a stellar first career playoff performance. Husso stopped all 37 shots he faced from Minnesota on the night. He provided many great saves to keep the Blues ahead all night.
Don't rely on statistics
The Blues were top five in the NHL in both power-play and power-kill in the regular season. While that is great, St. Louis cannot give the Wild six power-play opportunities again. Now, if you ask the Wild head coach Dean Evanson, he would say the opposite.
"That's our season," Evason said. "Our special teams has not been very good. … For us to have success, we've got to stay out of the box and we've got to play 5-on-5 because we really, really liked our game 5-on-5."
Not often will you kill six penalties. While Minnesota has struggled, they are very talented and will soon turn that around even if the statistics argue against it.
Most of the penalties were bad penalties too. Perron who scored two power-play goals, also took two very dumb penalties himself. This series will be rough and physical and St. Louis will not have to retaliate.
Speaking of not retaliating, Pavel Buchnevich did a wonderful job of not doing so on this bush-league play by Jared Spurgeon. Spurgeon was fined $5,000 for this hit on Buchnevich and was not suspended.
Minnesota's Jared Spurgeon was given a 2-minute minor for cross-checking St. Louis' Pavel Buchnevich in the final minutes of Game 1.

The NHL Dept. of Player Safety is reviewing this incident, per ESPN.

🎥 @soIoucity pic.twitter.com/dpxkWxl1ae

— The Athletic (@TheAthletic) May 3, 2022
Game Two Notes
Take advantage of the power-play opportunities again. St. Louis was 2-6 on the night Monday. A big part of that was obviously the play of Perron.
Coming into the game, everyone was concerned with how Husso would play. Never being in the spotlight can often show on young athletes but that was not the case. Husso looked like his teammate, Jordan Binnington in 2019.
Ville Husso is the first Blue to record a shutout in his #StanleyCup Playoffs debut. This was just one of his 37 saves.#stlblues | @pncbank pic.twitter.com/itbQQLC874

— St. Louis Blues (@StLouisBlues) May 3, 2022
Finally, leave no doubt. St. Louis dominated Minnesota for most of the game with the physicality and capitalized on their opportunities. If St. Louis can frustrate Minnesota into more penalties, it could be a short series between the two teams.
Game Two information
Location: Xcel Energy Center – St. Paul, Minnesota
Game Time: 8:30 p.m. CT
TV: BSMW, Bally Sports App, ESPN
Radio: 101.1 ESPN St. Louis, NHL App
Game Two Lines by DraftKings
Spread: Minnesota -1.5
Money Line: Minnesota -130
St. Louis +110
Over/Under: 6.5
---
Join our Discord
to leave a question or comment regarding this article. We have sports fans talking betting all day — every day! JOIN THE DISCORD NOW AND QUALIFY FOR PRIZES & BETTING SWAG!
---